I found myself on the central east side of Detroit, or what the city officials prefer to call "midtown", in the Brewster Projects to see a friend. Then it hit me... I felt like a starving Ethiopian child, the kind you used to see in those commercials back in the late 80's and early 90's, where people would say shit like, "for $1 a day you could sponsor this child and make sure they're spayed/neutered and vaccinated." Oh. Wait. I think that's more like the ASPCA's pitch, but it's essentially the same thing. But yes I felt exactly like that.
My friend and I crossed I-75, and parked across from the mental hospital there (apparently you can see Jue walking around there at times), which is also located next to a shady liquor store (where you don't need an I.D., remember this underage drinkers!). I'm not going to mention the store, as to not get them into trouble. But they carry some top shelf items. This is knowledge that is good to know. We finally stumbled across Eastern Market like two zombies on the hunt. Eastern Market is notorious for filling your olfactory senses with a putrid "dead body" or rotting flesh smell. Now imagine that on a 90 degree day, and being downwind. Yeah, not a pretty scent to imagine. It's this heavy scent in the air that makes me say "zombies on the hunt".
Cutter's Bar & Grill isn't anything extraordinary on the outside. It honestly looks like a dive bar. Walking in, it's dark, and you'll always see multiple people sitting up at the bar, no matter the time of day. Tracy is usually filling the role of bar keep. And you may have the chance to meet the loveliest waitress named Alexis. She'll take your order and hook you up. Ask her opinion on which is better: fries or tater tots. Of course she said tots. From that point I was in love. (I'm kidding). I ordered the turkey sandwich, even though the lunch special was two sliders with fries and a drink. Which by the way, if you didn't come there for alcohol, they serve Faygo products (keeping it Detroit). That sandwich was the bomb! I left Alexis a $10 tip, and made my way across the market. Really I was holding my breath and jogging through some areas of it, because I didn't want my lunch to come back up. I don't imagine it'd taste as good as it had.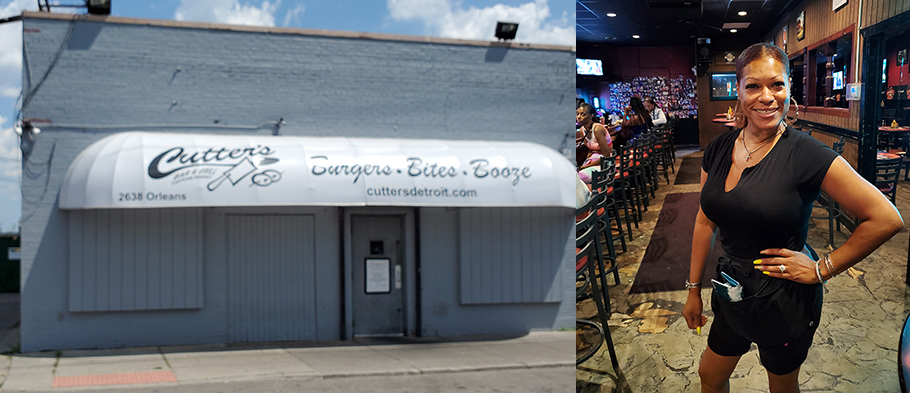 The menu carries mostly American gastro-pub cuisine, and it's not expensive. Parking on Tuesdays, Thursdays, and Saturdays might be difficult, due to the market being open on those days. Cutter's is also a popular destination during sporting events... like the Detroit Tigers, Lions, and Pistons (oh my!) playing. You can consume copious amounts of alcohol whilst watching on one of the many flat screens. I forgot to mention there's a jukebox. It typically plays old school gangsta rap, and it's all good with me. I give Cutter's two katanas (because I'm a ninja) up in approval.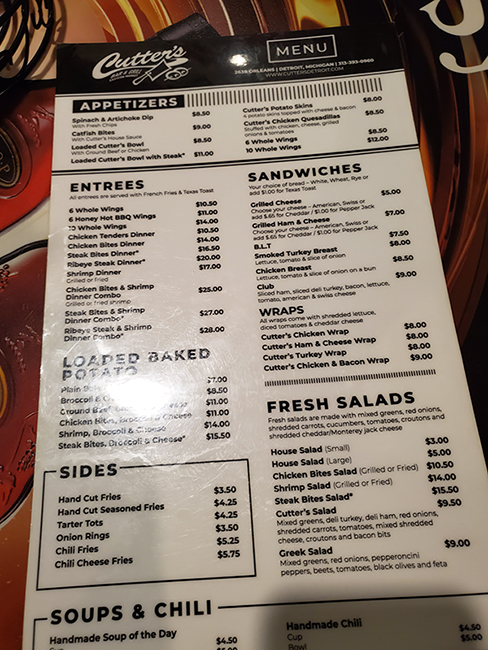 Cutter's Bar & Grill
2638 Orleans, Detroit, MI 48207
(313)393-0960